Webinars
Jeopardizing the Offer: The Dangers of Your Candidate Interview Experience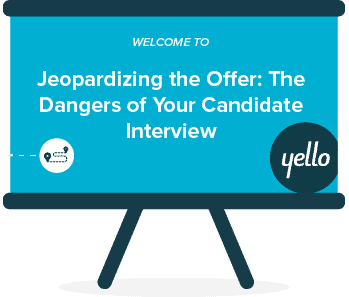 You've implemented a strong sourcing program, a creative recruitment marketing strategy and an engaging onboarding program.
But did you know none of these initiatives matter if your candidate interview experience is less than stellar? Why is it that this often-overlooked part of the candidate experience so important?
According to the Brandon Hall Group 2018 Candidate Experience Survey, nearly half (49%) of the organizations surveyed indicate the most important impact-point for candidate experience is during the evaluation stage, which includes screening, interview scheduling, interviewing and assessing.
Listen in as Daria Friedman, Principal Analyst of Talent Acquisition at Brandon Hall Group and Kelly Powers, Sr Product Marketing Manager at Yello discuss how to transform your interview experience from risky to rewarding. Daria, Kelly and Angie will examine and share examples on the best ways to mitigate the dangers in your candidate interview experience, and how automation and strategy may be the key ingredients your organization is missing.
Participants walk away with the following:
The impact of interviewing on the candidate experience and hiring success
A strategic design of the interview process
How to use automation to surmount challenges and improve your interview process
Webinar Speakers
Daria Friedman
Principal Analyst of Talent Acquisition
Brandon Hall
Kelly Powers
Senior Product Marketing Manager
Yello
Recent Posts