Resources
Resources
Stay up-to-date on Yello's latest talent acquisition trends.
Case Studies
Heading into 2020, the NCR campus relations team faced a huge challenge: recruiting students during campus closures and the elimination of in-person recruiting events. The team realized to meet its recruiting goals, it needed to move quickly — within a matter of months — to transform a formerly in-person, on-site campus recruiting program into a 100% virtual experience for both intern and full-time roles.
---
Case Studies
After struggling with interview scheduling challenges at Energy Transfer, Head of Talent Chris Andersen was ready for change – there just had to be a better way. Under his direction, Energy Transfer turned to Yello's interview scheduling platform. Following a successful implementation, his team eliminated 95% of the time spent on scheduling interviews and sped up time to hire. Let's look at how they did it:
---
Case Studies
Learn how BluePearl Specialty + Emergency Pet Hospital increased applications by more than 200% and automated the interview process with Yello — helping to improve the candidate experience and attract in-demand veterinary candidates.
---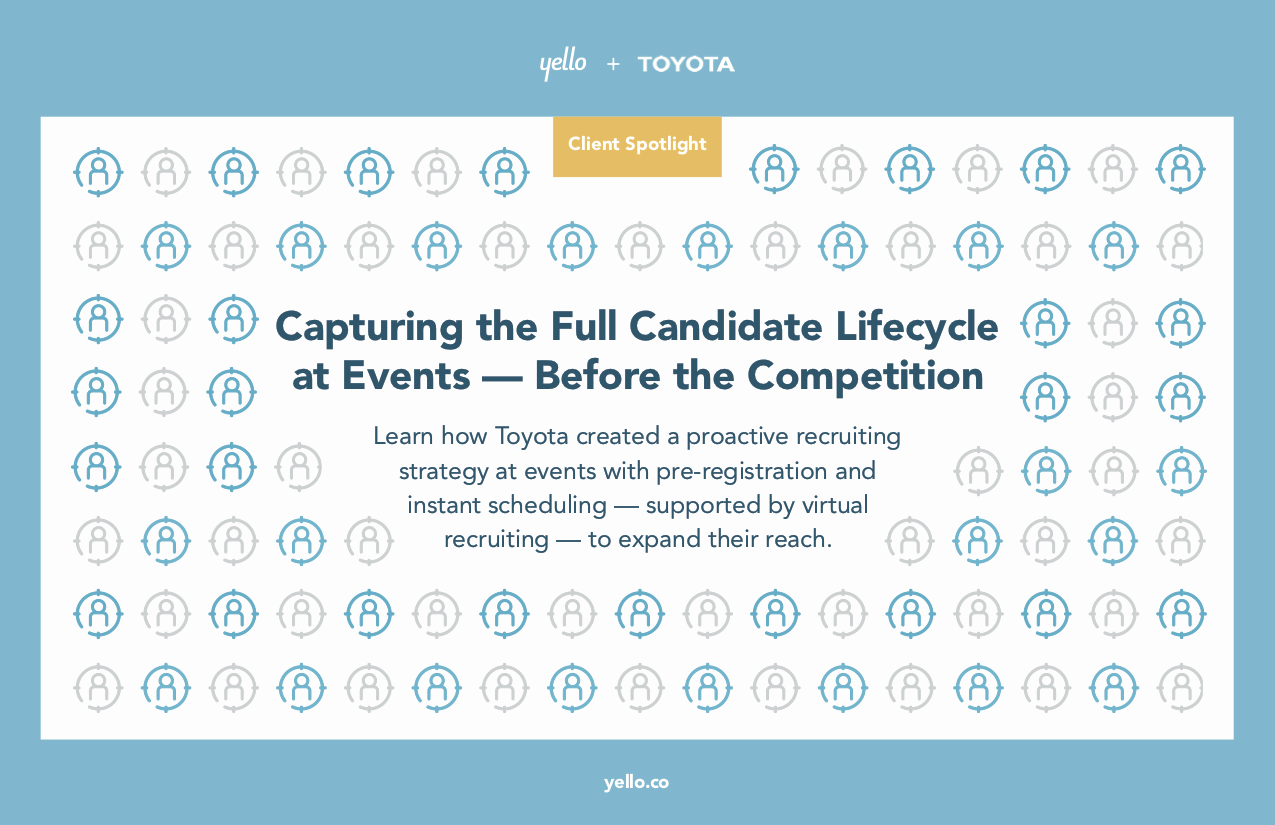 Case Studies
Learn how Toyota created a proactive recruiting strategy at events with pre-registration and instant scheduling — supported by virtual recruiting — to expand their reach.
---
Case Studies
Learn how Crowe eliminated weeks of manual work for their staff by powering on-campus recruiting efforts and hiring events with Yello.
---
Case Studies
Learn how Plexus leveraged automation and marketing tools to increase their presence on campus — while eliminating hours of manual work and travel costs.
---
Case Studies
E&J Gallo uses a relationship-focused recruiting process to identify serious candidates — ultimately, leading to a 90% candidate interview self-schedule rate.
---
Case Studies
Learn how Chicago Trading Company implemented automation throughout the hiring process to hire top talent faster.
---
Case Studies
BDO is implementing virtual recruiting to meet growing campus hiring goals, improve the candidate experience and save the firm thousands of dollars and time.
---
Case Studies
Learn how West Monroe Partners leveraged technology and key campus relationships to grow their campus recruiting program by 500% over 10 years.
---
Case Studies
According to the International Workforce Group, over 70 percent of professionals work remotely at least one day per week — creating the perfect landscape for Kearney to build on-campus connections without a physical presence. Today, Kearney recruits at more than 60 of the nation's top business, engineering and liberal arts schools, and hopes to expand their reach even further.
---
Case Studies
Goodman Networks, which helps customers build and maintain wireless networks, grew quickly and now employs more than 2,500 field technicians. Most of these technicians are 18 to 29-year-old members of the Millennial and Gen Z workforce. To keep up with growth and continue to meet high-volume hiring goals, the Goodman Networks talent team needed to create a scaleable hiring process, while leveraging additional ways to build and nurture a pipeline of Millennial and Gen Z candidates.
---
Case Studies
A global, fast-growing technology company with a workforce of more than 1,500 faced a challenge: they needed to recruit future leaders to keep up with the organization's continued growth. To accomplish this, the company needed a technology partner who could streamline the way they manage relationships with individual candidates, and scale their efforts to create an authentic, culture-forward experience for every prospect at nearly 75 career fairs globally.
---
Case Studies
Cielo was among the first in the RPO industry to integrate technology into talent acquisition strategies. As hiring needs increased around the world, they wanted to continue to innovate by developing a technology model that delivers an interactive, high-touch recruiting experience for candidates in every industry and location. Cielo hoped to accelerate hiring and bring consistency to recruitment operations, while increasing candidate engagement.
---