It's easy to lump Generation Z and millennial employees together. After all, both generations grew up as digital natives, with smartphones and myriad social media platforms at their fingertips. But each generation comes with their own set of expectations for the hiring process, and your recruiting strategy should reflect the needs of these very different sets of job seekers. Here's how.
Understanding how your recruitment methods engage (or don't engage) candidates is key to hiring top talent. And when it comes to generational differences, pairing the right strategy with the right audience is the key to winning over candidates and beating the competition. While it might be easy to assume that Generation Z and millennial employees are similar, recent research shows that these two generations are markedly different when it comes to their expectations for the job search process.
The Yello Recruiting Study found similarities and differences between what attracts the newest workforce generation (Gen Z) and the biggest current workforce (millennials). Knowing what each generation wants in a job, in a company, and even in a hiring process can help employers better attract talent.
Here's what your organization should know about building a recruitment strategy to attract and retain Generation Z and millennial job seekers:
What Gen Z and millennials are looking for in a job
While Generation Z and millennial job seekers have some job expectations in common, there are several differentiating trends when it comes to what each generation is looking for at work:
| | Generation Z | Millennials |
| --- | --- | --- |
| College major | Gen Z's most popular college majors are science, healthcare, and psychology/social science. Engineering is on the rise: the number of engineering majors has doubled between Gen X and Gen Z. | Millennials' most popular college majors are science, business and healthcare. Millennials studied psychology at less than half the rate of Gen Z. |
| Industries | Gen Z's top industry choices are: healthcare and social services, education and professional and business services. Gen Z is more likely to want to work in the federal government than millennials. | Millennials' top industry choices are: Education, healthcare and social services, and information technology. |
| Occupations | Occupations in arts, design and media are attractive to Gen Z, with three times more Gen Z-ers choosing these occupations than Gen X or Student Millennials.Even as Gen Z picks business less as a college major, they are choosing sales occupations two times more than Gen X or Millennials. | Millennials' top occupations are: education, training and library, computer and mathematical, and business and financial operations. |
| Career development | Gen Z's most important factors when deciding to accept a job are: Salary, work-life balance, and job duties they'd be working on. | Millennials' most important factors when deciding to accept a job are: salary, work-life balance, and career growth opportunities. |
| Benefits | At a minimum, Generation Z expects the "Big 3" employee benefits: medical insurance, paid time off and retirement savings.Aside from the "Big 3," Generation Z is looking for maternity and paternity benefits, student loan repayment, and tuition reimbursement. | At a minimum, Millennials expect the "Big 3" employee benefits: medical insurance, paid time off and retirement savings.Aside from the "Big 3," Millennials are looking for bonus incentives, student loan repayment and maternity and paternity leave. |
Primary differences in recruiting millennials vs. Generation Z
Sourcing candidates
For all generations of candidates, employee referrals are the most valued resource to find a job. If your company doesn't have an employee referral program, it should. But referrals can only net so much talent. Beyond word-of-mouth, our data found where Gen Z and millennials diverge when it comes to looking for a new job.
For Gen Z, hiring events are one of the most valuable resources. They look to college career centers, job boards, hiring events and an organization's website to find opportunities. For employers, maintaining relationships on campus can be key to attracting this demographic. Whether your hiring events are in-person or virtual, these meet-and-greet opportunities are a great way to connect with Gen Z and build a stronger employer brand.
Most popular job search sources
After employee referrals, job boards are millennials' top choice to find a new role. You'll want to cast a wide net to attract this cohort: look for major job boards that list nationwide, as well as nearby niche boards and chat rooms. Local trade associations and groups may also be a resource for postings in your area. Job boards software makes it easier to distribute open roles to as many external sites as possible.
Attracting applicants
Every job posting gives you a chance to boost your brand, and you should take advantage of it. To speak directly to the candidates you want to attract, know your audience and highlight their most important workplace wants and needs.
While both millennials and Gen Z job seekers put salary and work-life balance at the top of their wish list, Gen Z's top three "must-haves" also include the types of job duties and projects they'll be responsible for. When writing job descriptions for Gen Z, highlight how they'll make an impact on the company, and what they'll accomplish within their first months at your company.
Most important factors when deciding to accept a job
After salary and work-life balance, millennials are looking for career growth opportunities. In recruiting materials, be sure to mention ways in which employees can climb the corporate ladder, as well as any mentorship and professional development opportunities you offer.
Building an employer brand
Gen Z and millennials are ready to do their homework. They want to know about a company before they apply and they're ready to do the research. Understanding where they learn about your employer brand can be key to attracting them.
For Gen Z, your company website is their first stop for research. This group is looking for a compelling online brand presence. Make your career page stand out by raving about your company's mission, showcasing real employees and including a company culture video.
Most popular resources when researching a company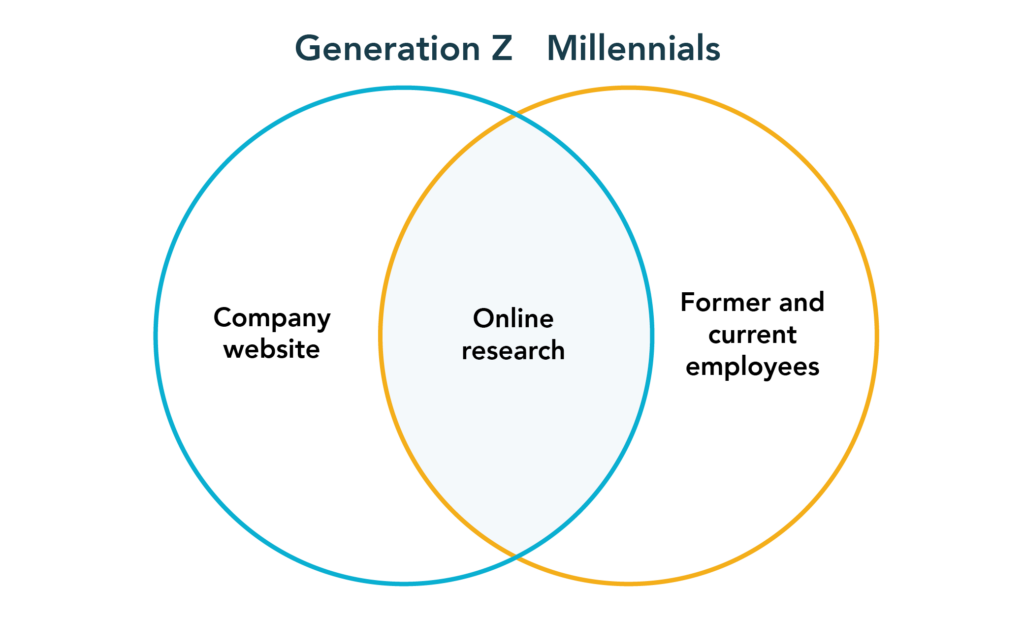 For millennials, who likely have a larger network they can leverage, former and current employees are their top resource to find out about your company. They also look to third-party websites like Glassdoor for information, so make sure you respond to employer reviews.
Investing in the right technology
Once you've captured their attention with a compelling job description and online presence, the hiring process itself could make or break the recruitment chain. Being up-to-date with the right recruitment technology is key for more than half of both generations.
For Gen Z, 54% will not apply if they think your recruiting methods are outdated: 51% of millennials agree. Assuring you have the latest recruitment tech: seamless application workflows and interview scheduling software may mean the difference between attracting or deterring applicants.
How high-tech should you go? Almost half of Gen Z and 51% of millennials say they've applied for a job straight from their smartphone. A smooth mobile application process can tip the recruitment scales in your favor.
Providing a positive candidate experience
A positive candidate experience is more important than ever. Both Gen Z and millennials agree that the faster the hiring process, the better — with over 80% of both groups saying the process should take two weeks or less. But how you affect that fast hire shifts a bit by generation.
When it comes to communication, both cohorts prefer email first, then phone calls to establish a connection. But Generation Z's decision to accept a job may depend on the connection they make with the recruiter. Almost 44% cite their relationship with their recruiter as a key factor in determining whether or not to accept a position.
Offering the right benefits
When it comes to core benefits, both demographics expect the basics (medical insurance, PTO and retirement). But for Gen Z, not surprisingly, maternity and paternity leave are also important. They also look for organizations that offer tuition assistance and reimbursement.
For millennials, student loan repayment assistance is another top perk, along with bonus incentives.
Most popular employee benefits
Whether you're looking for an entry-level candidate or a seasoned new hire, understanding the differences between the generations can be key to success. What attracts job seekers to apply, interview and accept an offer with your firm varies by the specific needs of the candidate, but armed with information on what makes the generations tick, you may find more success in your recruitment and hiring processes.

Get more insights on Gen Z in the workplace in our latest Recruiting Study.
Download Now
Recent Posts